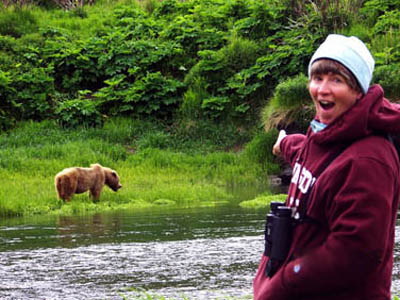 "Eagles, whales and bears, OH MY! Quartz Creek Lodge is the best place we have ever been to view wildlife in their natural habitat."
~Earl & Barbara Dolan, Maryland
Click on the Photos Below to View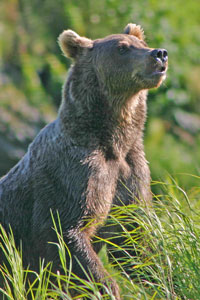 The Kodiak bear (Ursus arctos middendorffi) is an unique subspecies of the brown bear. Kodiak bears live exclusively on the islands in the Kodiak Archipelago and have been isolated from other bears for about 12,000 years.
Kodiak Island Bears roam freely through the wild terrain of Uganik Bay in the Kodiak National Wildlife Refuge. KNWR is home to over 3000 of the largest bears in the world. Opportunities to view the Kodiak Bears are numerous throughout the three massive arms of Uganik Bay. A scenic boat ride to each area presents a wide variety of land and marine mammals, song and seabirds.
By late May the magnificent Kodiak Bears will be seen grazing on the fresh sprouts of sedges and goose tongue in the tidal flats. As the summer progresses they move to their favorite feeding grounds along the riverbanks as the salmon enter the rivers and begin their annual trip towards spawning grounds. Single bears or sows with one to three playful & curious cubs can be seen at any time lumbering along, fishing, wrestling, swimming or napping at many points throughout the bay. By mid to late July the salmon are thick in the river and the bears learn to share their space with each other as they fish. Salmon will continue running in to the river through October where the bears will remain, feasting on the rich fish. Each bear has its own fishing style and technique. As you view them the difference becomes apparent: the older bears do more catching and eating and the younger ones make all the splashes as they charge after the fish in the river ... their success rate isn't so high at catching, but it's a thrill to watch it all!
Operating in the KNWR where there are more bears than people makes for some incredible viewing & photography opportunities. Good quality optics and camera equipment that you are comfortable and familiar with is a must for the best possible once-in-a-lifetime experience. Taking small groups of 6 or less, we strive to maintain a low impact presence in Uganik Bay.


Your guide, David Pingree, has worked around bears since 1992 and enjoys sharing his knowledge with all who are interested.