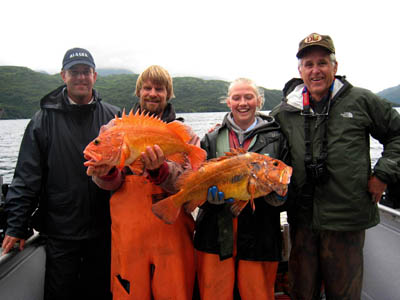 "Our stay at Quartz Creek was incredible. We had such an awesome time … the food, fishing, bear viewing and wildlife observation was all we could have hoped for."
~Chad & Rhonda Karges and Bob & Bev, Oregon
Click on the Photos Below to View

You'll enjoy the solitude and richness of the unique ecosystem that kayaking Kodiak Island's magnificent Uganik Bay offers
The waters of Uganik Bay are vast – paddlers enjoy ample choices of area and scenery.
Located in the heart of the Kodiak National Wildlife Refuge the scenery here is Kodiak in its wild, natural form. Beaches and shorelines are covered with lush green vegetation. Rugged shale cliffs awash with the colors of wildflowers. Hills and craggy mountains loom out of the sea.

Beautiful waterfalls, bird islands, sea otters and whales are common sights. Tidal fluctuations of up to 22' expose beds of blue mussels, clams, barnacles, starfish … it's not uncommon to catch sight of fox, Sitka blacktail deer, bald eagles or an occasional Kodiak brown bear foraging the tidal zones
For those interested, the area has an interesting historical background – just ask, we enjoy sharing! Enroute to paddling areas you'll catch glimpses of our summer neighbors at their fish sites tending their nets and occasionally a salmon seiner will be making a set, pulling in a net of beautiful wild Alaskan salmon – a fascinating industry to catch in action.